Characters
Although the majority of 'characters you encounter as you travel through the facility are dead, undead, or turned into kitty kibble by the rebellious machines, there are still people to find, meet, and quite likely kill with extreme prejudice.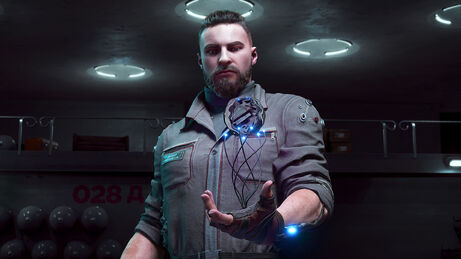 Major Nechaev - a special duty officer and a private agent of professor Sechenov. Excels in handling complicated situations, sometimes violently. Nechaev dedicated his whole life to the service, and in return, all he's got is deep loneliness and numerous wounds, both physical and mental. Professor Sechenov is the only human being who treats him with fatherly warmth, and agent Nechaev pays him back with loyalty and respect. The special agent's past remains classified.
Code name "P-3" - as plutonium, the third discovered radioactive element - was assigned to major Nechaev after he ended up, severely wounded, in professor Sechenov's lab. Both hands broken up to elbows, left leg completely shattered, and a severe concussion. The professor personally augmented P-3 with metal prostheses and restored his brain activity. Alas, P-3 still suffered a fractional memory loss: he never fully recovered the memories of his past.
P-3 managed to take part in many black ops as Sechenov's agent: Africa, Near East, Asia. The Major remembers very little of his missions and suffers from PTSD, passionately believing that he is dangerous and unstable. Professor Sechenov does his best to keep his top agent in impeccable physical and emotional condition. A polymer glove, his last gift to P-3, is the cutting-edge technological invention that easily absorbs new polymers and provides experimental combat capabilities.
The glove or the polymer manipulator is powered through batteries, implanted in Nechaev's jumpsuit. The connection is established through a universal port in the agent's hand. The power supply to the glove itself is delivered via thin monomolecular superconducting polymer rods, which are planted inside the marrow and the left arm.
Thus, the implant, connected with the neural system and soft tissues can be controlled with the force of mind - electrical impulses of neurons - and it also guarantees an instant absorption of polymers by the agent's body.
Character yet to be revealed.
Character yet to be revealed.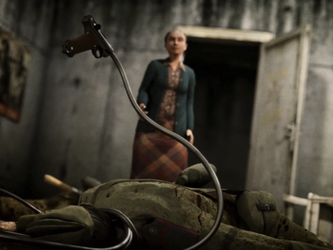 Character yet to be revealed.
Character yet to be revealed.
Character yet to be revealed.
The Twins (Близняшки - Bliznyashky)
[
edit
|
edit source
]
Character yet to be revealed.
Fluffy (Пушистик - Pushistik)
[
edit
|
edit source
]
Character yet to be revealed.

In the video, "Atomic Heart "Pushistov" (2012)" by FoxusSexus:
Жесть, столько теорий касательно происхождения Пушистова накопилось, напишу как есть; Пушистов - существо из лимба, в который попадает главный герой после потери сознания. Искаженная версия Человека-желе, покрытая шерстью. Яблоко на его голове вряд ли что-то говорит о нем, это просто интересная деталь, которая делает его более запоминающимся. (Translation)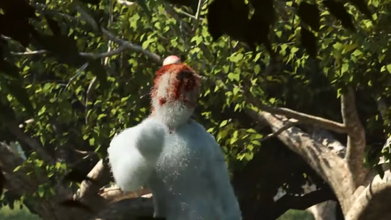 Good, theories about Pushistov's origin have accumulated, I'll write it as it is; Pushistov is a creature from the limb that falls into the main character after losing consciousness. A warped, furry version of Jelly Man. The apple on his head hardly says anything about him, it's just an interesting detail that makes him more memorable.
TL;DR
Apple fell on Jelly Man's head and he's furry.

Fan Theory by Ross Freakes:
[
edit
|
edit source
]
The apple is essentially a parasitic creature that falls from a tree and lands onto a hosts head, doing enough blunt damage to facture the skull, a sort of fungus, that looks like fluff begins growing over the host, and then the host sets off to find either another person to infect or a place to die and continue its cycle.


Character yet to be revealed.
Jelly Man (Человек-Желе - Chelovek-Zhele)
[
edit
|
edit source
]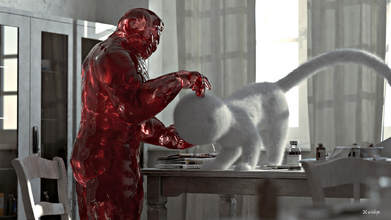 Character yet to be revealed.
Character yet to be revealed.